Download Cheat Sheet to Invoice Automation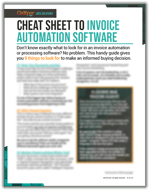 Discover the top 11 things

to look for in an Invoice Automation Software and make an informed buying decision.
This handy guide will get you started on the road to saving significant hours and costs in invoice processing. Put an end to manual data entry!