In addition to delivering cutting-edge technology solutions for over 30 years, life at BIS is unique.
We unleash our creativity, we think big, we engage different perspectives, and we share experiences.
If you are looking for an exciting and rewarding career where you matter, then your journey starts at BIS.
Who We Are
What Drives Us
At BIS, we are not an average company. We have fun while we get things done. Our eight core values are a way of life and empower our mission and vision. They guide the jobs we do and the way we choose to do the work.
Creators

We innovate fearlessly, unleashing creativity with a childlike curiosity and wonder

Communicators

We communicate respectfully, engaging in courageous honesty with humility and care

Givers

We are generous with our time and hearts, building trust through loyalty and commitment

Leaders

We passionately embrace change, transforming in a flexible, yet organized way

Celebrators

We know how to have fun in life and work, operating with family spirit and a youthful exuberance


Owners

We are responsible and accountable, showing integrity by doing the right things even when no one is looking

Peculiars

We own our 'weird' and are proudly a bit quirky and different


Finishers

We perform with determination, aggressively delivering valuable results
What words describe the BIS culture?
Innovate • Create • Empower • Family • Fun • Diverse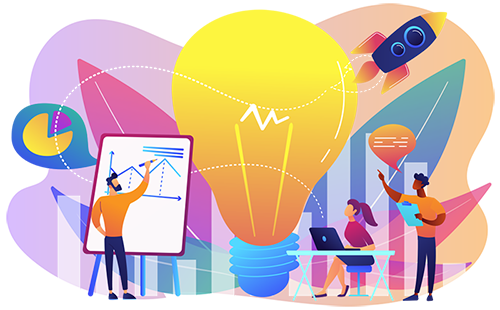 What We Do
Headquartered in Edmond, Oklahoma, BIS has built a solid reputation for providing state-of-the-art products and services to companies across the country. Together, we are creating a future of endless possibilities. We seize the power of technology to transform ourselves and our community.
MISSION

To be a global visionary of business insight through innovative technologies. We transform data into useful information and useful information into action.

VISION

We enable success by harnessing valuable information.
What We're Proud Of
Our accomplishments and awards that we've won for our people and innovation are proof that BIS rocks!
DYNAMIC

Inventor of Grooper, the world's leading data modernization software platform for data capture and information processing.

ELITE

The Journal Record's 2016 Oklahoma Innovator of the Year Award winner.

BOLD

BIS has been recognized as a "Best Place to Work in Oklahoma" for seven years in a row.
How We Hire for Careers at BIS
From your first interaction to building a legacy with BIS – we believe improving the employee experience in each phase of the journey.
Your Journey With Us
We do things a little different at BIS. Here, our employees are our most important resource. We care for and promote our people through unparalleled support. We offer careers with an opportunity to innovate, grow, and succeed – while seeing results and changing people's lives. BIS is committed to being an Equal Employment Opportunity Employer.
But before you begin, we want you to understand that your journey to a career at BIS includes these steps.

APPLY

Let us know you are interested, and we will get in contact.

INTERVIEW

We want to meet you and see the awesome things you can do.

DECIDE

Grow with us and do exciting things. You know you want to!

WELCOME

Embark on the BIS journey and learn our secret handshakes.
BIS Jobs: Where We Hire
Oh, the places we will go. Embark with us on an adventure-of-a-lifetime!

Hiring Heroes
Our veterans, reservists, and guard members possess the skills, character, and leadership to get the job done.
We are proud to employ our nation's heroes. Thank you for your service. We salute you.
University Recruiting
We are always seeking people who expect more and strive to reach their full potential.
We know that our most talented employees of tomorrow are on campuses right now. Your future begins at BIS.
Total Career Rewards
With industry-leading total rewards, it's a no-brainer to start your adventure at BIS!
From financial security to personal growth, we take care of our employees— and make it easier to balance life's demands. Explore our unique offerings:
Robust Benefits

Diverse medical options suitable for families and singles

Medical/health plans
Vision plans
Dental plans
Telemedicine
Health savings and Flex spending
Dependent care account
Pet insurance programs available

Financial Security

Planning for your future

Competitive salaries
401K with company match and 90-day immediate vesting
Basic life insurance
Supplemental insurance
Short-term disability
Long-term disability

Supportive Network

Make life easier at little or no cost to you

Employee Assistance Program (EAP)
Employee referral incentive (ERI)
Employee discount network
Goal coaching

Personal Time Off

Absence makes the heart grow fonder

Seven paid holidays
Flexible paid time off
Purchased additional time off
Paid giving back/volunteering time

Investing in You

Live and work your best

Continuous learning ecosystem

Career planning and development

Center of excellence BIS library

Individual performance recognition

Alumni association

Other Cool Stuff

We've got perks, yes we do

Ping-pong tables, arcade games, pool tables, video games, couches
Collaborative workspaces
Recreational areas
Holiday events
Casual Fridays
Beverages and healthy snacks
Regular food trucks visits
Community
BIS is committed to supporting organizations making a difference in our communities. Employees can volunteer up to 24 hours per year with pay to volunteer for a cause that matters!
Who We Help
We give back to our community through approved agencies and activities. A few of the organizations we partner with are: